Maintaining the Hygiene (A progressive startup is making its mark cleaning up hazardous hospital waste surprisingly in a city other than Kathmandu)
by Nikeeta Gautam (New Business Age)
---
Posted on 27-Mar-2017
---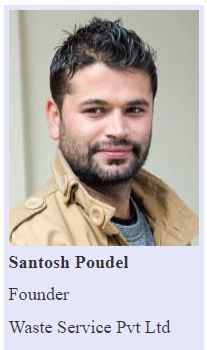 ---
While the general waste management business has gained impetus in recent years, little effort has been made to manage waste in the healthcare sector. However, with increasing awareness about the hazardous effects of biomedical waste in the Kathmandu Valley, at least hospitals and clinics here have been applying specific methods to minimise the risks associated with such toxic waste.

But in places outside the capital, such initiatives hardly exist. Among the biomedical waste service companies trying to reduce the health hazards of waste produced by hospitals and other healthcare institutions, Pokhara based Waste Service Pvt Ltd is one of them. Founded by Santosh Poudel, the company actively works around the areas of the country's western city. Young and enterprising, Poudel is combining business savvy and technical innovation to provide a complete solutions to biomedical waste management in one of the important city of the country.

The work of Waste Service is different from other waste management companies in Pokhara as it works solely on biomedical waste. Similarly, the company is actively trying to minimise the risks of contamination created by the hazardous wastes unlike other companies that only focus on recycling and dumping. The company is providing biomedical waste management awareness training in major hospitals in Pokhara such as Fewa city, Namaste, Lake City, Metro City etc. The company works on the segregation, collection, transportation, and treatment methodology of such waste. After proper treatment, the waste is managed through composting, recycling and land filling.


Treatment and Management
According to the World Health Organisation (WHO), 15-30 percent of the waste produced by healthcare institutions is infectious, toxic and radioactive, whereas 60-70 percent is considered to be general waste. "A small amount of hazardous waste mixed with a large amount of general waste turns the whole quantity hazardous. The risks are maximised by multiplying the amount of perilous waste," Poudel says. Usually hospitals and healthcare centres cannot be built far from residential areas as such facilities need to be easily accessible. "So, this is one of the reasons healthcare waste needs to be managed properly," adds Poudel.
Waste Service deals in all kinds of healthcare waste produced by hospitals, pharmacies, polyclinics and dental clinics. "We have just started our operation by constructing the treatment centre and now we have the capacity to treat 1,000 kg of hazardous waste per day in Pokhara," Poudel states. In an agreement with the Pokhara Sub-Metropolitan City Office, the company has obtained a license from the office to manage all healthcare wastes of the sub-metropolis area where 211 clinics and 25 hospitals are operational. The company also has plans in the future to draw up waste management contracts with healthcare institutions. "We will contract directly with the hospitals to work on other areas related to health care waste management. Meanwhile, we are in procurement talks with the hospitals to identify their needs on collecting waste, training, required infrastructure and waste auditing," shares Poudel.


Waste Management Techniques
The company basically uses the stream non-burn technology to treat waste. "Here we manage the waste without burning it. Altogether we use three models for treatment which include autoclaving, deep burial and encapsulation," Poudel informs.
In the autoclaving method, the contaminated waste is treated through steam, heat and pressure. In the encapsulation process, the hazardous waste is set into a composition forming slurry allowing the mix to set and encapsulate the waste material. Sharp objects such as needles and surgical blades are treated by this method. In the case of deep burial, the degradable waste is buried with chemical configuration for the long term. Anatomical waste including placenta are treated by this method. "In this method we are also trying to convert the waste into biogas so that it can be reused," he says.
Currently, the company's priority is to treat the waste. "We take full responsibility for the whole process from collection to the treatment and disposal of waste. If certain responsibilities such as the collection of the waste are given to the hospital, then there are chances that the toxic and no-toxic wastes will get mixed," says Poudel. The company has been providing its service at the rate of Rs 40 per kg of hazardous waste and Rs 20 per kg for general waste. The service charge is set by the municipal authority.
The company has an investment of around Rs 20 million and employs 16 people in its treatment centre and the office of Waste service in Pokhara. According to Poudel, the company has strict guidelines in place to protect the workers from the probable associated risks. It regularly provides them with special clothing, gloves, masks, and eye protection gear to ensure their safety in the workplace. "We also conduct their whole body check-up, vaccinate them against HIV and Hepatitis and also provide regular counseling on the precautions and safety techniques," he informs.


The Beginning
Poudel who completed his Masters in Economics from Prithivi Narayan Campus, Pokhara gained a gamut of leadership skills while engaging in student politics after SLC. Along with his political activities, Poudel also undertook various part-time jobs in the healthcare sector during his college days. He says both experiences shaped his growth leading him to his current field.
"Back in 2010, I worked in a company called Pokhara Waste Management. During the stint, I was able to identify various problems in the environment and my passion as well. Afterwards, I started taking waste management as something else," he says. After four years with the company, he wanted to start something of his own. While he was working part-time at the Gandaki Medical College in 2011, the institution had outsourced another waste management company to manage the waste.
"It was at this time I got closer to healthcare waste management. Later on in late 2011, we did a project on Western Regional Hospital to manage waste. This was the opportunity for me to gain some knowledge and skills," he recalls. With years of research, he then embarked on a journey as a solo entrepreneur by registering Waste Service in November 2014.
"We already had companies in Pokhara working in general and municipal waste management. So, I wanted to introduce solutions to the unaddressed issues of biomedical waste management," he expresses. Along with being the sole founder of Waste Service, Poudel is also the Managing Director at Pokhara Waste Management.


Challenges
Poudel never learned about business from either his family or his peers. "Now that I have reached a certain stage, I definitely get support from my family and friends. However, in the beginning, everyone was afraid of the business risks," he reveals. Now, circumstances are different for Poudel as he has gained many like minded companions who have even invested informally in his ideas.
Entrepreneurship is a voyage full of never ending obstacles and risks. For Poudel, some of the biggest problems he faced were at the beginning while starting the firm due to the bureaucratic hurdles.
Besides this, Poudel also feels that the waste management business is undervalued in Nepal. "Those who are working to manage the waste are just doing it in traditional ways. We still have to work a lot in terms of awareness," says Poudel.
Despite operating a company in Pokhara, he says starting a company and doing business is easier in the capital compared to other parts of the country, since Kathmandu is the administrative centre of the country. "Even to construct a waste treatment centre, I had to contact the construction company from Kathmandu. This certainly adds to the difficulty."


Future Plans
The company aims to find a common solution to the underlying problems in biomedical waste management which is the reason it has been working with the municipal authority. "There are many similar companies in Kathmandu that are collaborating with a single hospital for waste management. However, we want to give a cost effective solution to the whole city rather than a single entity," he shares. According to Poudel, healthcare waste problems are also growing in other cities of the country including Biratnagar, Chitwan and Butwal where there are many hospitals in built-up areas.
At present, the company is leaving no stone unturned in terms of healthcare waste management in Pokhara. "We aim to become an overall waste management service provider in the healthcare sector. Besides this, we are also identifying unaddressed waste problems in other areas," says Poudel.
Poudel, who also took a 100-day business course from an accelerator, believes that such training programmes enhance the mindset of entrepreneurs and enable them to make decisions more rationally. "The course taught us about the proper implementation of action plans, business canvas models, value propositions, maintaining good finances and accounts and human resources," he says.
A calculated risk taker, he has a hands-on attitude to entrepreneurship, a more of learning-by-doing approach. "My advice to enthusiastic and creative young people who are willing to work to change the environment and society is to become entrepreneurs as it helps them take the steps to achieve their dreams and push their limits," he says.
---