Nepal's first Central Treatment Facility for healthcare waste
by The Deutsche Gesellschaft für Internationale Zusammenarbeit (GIZ)
---
Posted on 01-May-2020
---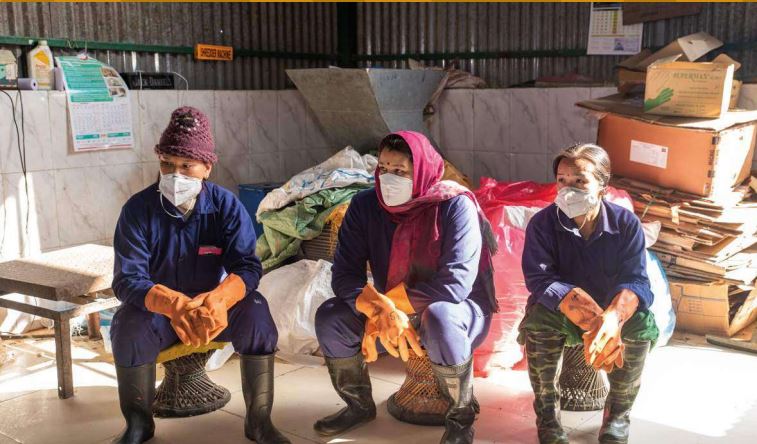 ---
POKHARA CENTRAL TREATMENT FACILITY

In December 2016 Nepal's first Central Treatment Facility (CTF) for healthcare waste opened its doors next to the municipal landfill in Pokhara. The CTF is the brainchild of Santosh Poudel, a social entrepreneur with a passion for waste management, who was inspired by CTFs he'd seen in neighbouring countries and set out to establish one in his hometown.

TACKLING AN URGENT PROBLEM THROUGH A PUBLIC-PRIVATE PARTNERSHIP

Working in partnership with the municipality, which endorsed the idea of a Central Treatment Facility (CTF) and leased him a parcel of land, Santosh Poudel built and equipped a warehouse-like building which is divided into separate sections for handling infectious and noninfectious waste. Infectious waste arrives in a dedicated truck at a special door on one side of the building, where it is unloaded by staff and treated in autoclaves before being sorted and combined with non-infectious waste. General healthcare waste arrives, in a different truck, on the other side of the building, where it is sorted by type. Recyclable items are weighed and packed up for sale to scrap dealers; anything that cannot be sold is brought to the landfill. The CTF currently processes five tons of waste per day from more than 150 healthcare facilities in and around Pokhara, including large medical colleges, public and private hospitals, laboratories, clinics, pharmacies and nursing homes. Clients can choose from among a variety of service packages, from the most basic (regular collection of infectious and non-infectious waste) to the most comprehensive (complete in-house waste management, 'from bucket to CTF'). In 2018 the city of Pokhara made it a requirement that healthcare facilities have a contract with the CTF in order to have their operating licenses renewed. This is an important policy for ensuring compliance with healthcare waste management guidelines that could be easily repeated in other municipalities.

GOOD WASTE MANAGEMENT CREATES GOOD JOBS

The CTF model in Pokhara has proven to be financially viable, and is also creating good, stable jobs for local residents. Twenty-two staff, including drivers, waste handlers, autoclave operators, account managers and bookkeepers, are involved in running the CTF and working with its clients. Employees who work directly with waste receive training, personal protective equipment (PPE), vaccinations, and regular medical check-ups. What's more, the wages are competitive enough that some young people who might otherwise seek work abroad have chosen to remain in Pokhara, closer to their families, and to work in waste management.

PAVING THE WAY FOR OTHERS TO FOLLOW

The CTF is in its fourth year of operation and remains a work in progress. However, the benefits of the approach have become clear—and are attracting attention both in Pokhara and further afield. Healthcare workers across the city and interested parties from other municipalities have become aware of the CTF and have visited to see how it works. The site manager at the municipal landfill next door appreciates that, as a result of the segregation and separate collection of healthcare waste, informal waste workers at the landfill are now protected from sharps injuries which used to be common occurrences. Municipal officials are satisfied to see that the CTF is providing an answer to a long-standing problem in the city, while at the same time putting Pokhara on the map as an example from which other municipalities can learn.
---